Amico AP11000 Air Conditioner Review
Last Updated: March 31, 2021
Notable for its energy efficiency and quiet operational noise, the Amico AP11000 is an effective portable air conditioner in spaces of up to 500 square feet. Our team put the unit to the test across a range of criteria, and this post is their review & buyers guide to this Amico appliance.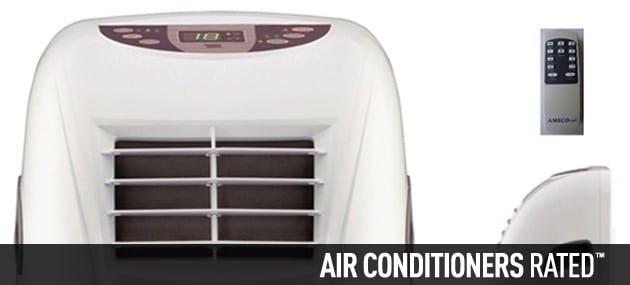 Retailing for around $380, the Amico AP11000 is one of the less expensive portable air conditioners on the market, and at this price point is exceptional value for money, especially when the unit's performance and energy-efficiency are taken into account.
While the design and appearance of the Amico AP11000D portable AC appliance are not exactly groundbreaking, it would be difficult to recommend a superior alternative for a portable air conditioner unit at this mid-market price range.
Amico AP11000 Air Conditioner — an energy-efficient appliance
With powerful performance and a high energy-efficiency rating (EER), the Amico AP11000 is a great value unit among the best portable air conditioner appliances. Here is how the unit fared in our reviews team's detailed tests across a range of other criteria, including design, convenience and customer support.
Cooling Performance
Reaching airflow speeds of 235 cubic feet per minute, the Amico AP11000 offers 11,000 BTUs of cooling power at top speed. This unit would be ideal for a suggested cooling area of approximately 500 square feet, making it suitable for a medium sized room or studio apartment.
Efficiency & Certifications
With an energy efficiency rating (EER) of 10.2, the Amico AP11000 is above the 9.7 EER average for portable AC units. We estimate that this appliance would cost around $90 per annum to operate, but this will, of course, vary depending on how much the unit will be used.
This unit has not been rated by industry standard safety ratings bodies such as UL, Rohs, ASHRAE, or ETL.
Convenience
The Amico AP11000 includes a wireless remote, which is always an excellent addition to a home portable AC system. Furthermore, a programmable timer provides the user with more control over their unit.
Unfortunately, the lack of a sleep mode and auto-restart functionality means that should the power go out while the user is away, the unit will simply stop functioning.
On the plus side, with a decibel rating of 48, this unit is one of the quietest portable ACs we have reviewed.
Design
From an aesthetic design standpoint, the Amico AP11000 is relatively basic. There is nothing exceptional about the physical design in our opinion. However, the appliance makes up for its lack of visual appeal with its performance and efficiency.
The AP11000 weighs 55lbs, making it one of the lightest portable ACs we have come across. On top of this, the unit's lengthy ventilation hose allows the user more positioning options than might be available with other portable AC units.
Help & Support
The help and customer support options provided to the customer by Amico are relatively limited. While there is an FAQs section on the Amico website, there is no online manual. However, the company can be contacted via email or phone.
A one year warranty is provided for the appliance and the compressor. Our only criticism of this would be that the duration of the warranty for the compressor would be less than that offered by other brands.
Summary
All factors considered, the Amico AP11000 is suitable for a medium-large sized living space, or studio apartment. Quiet, efficient, and portable, this unit is perfect for those seeking a middle-market portable AC unit.