Haier HPC12XCR Air Conditioner
Last Updated: March 31, 2021
Haier has a reputation as a maker of air conditioners that never let you down, and the Haier HPC12XCR lives up to its manufacturer's standards with ease. Here is what our team found when testing the unit's cooling performance, convenience, design, energy efficiency and customer support services.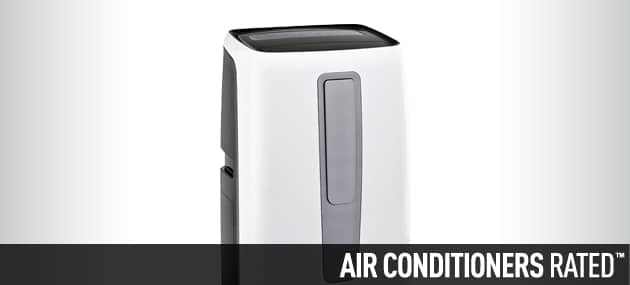 Haier has a reputation as a maker of air conditioners that never let you down, and the Haier HPC12XCR portable air conditioner proves itself as an appliance that is portable and energy-efficient enough to cool a variety of typical rooms sizes around the home. Its operational noise is also sufficiently discreet to enable Haier HPC12XCR to be used without any nuisance or fuss at any time of the day or night.
Haier HPC12XCR – the perfect blend of elegance & convenience
One of the best portable air conditioner units, the Haier HPC12XCR is a solid, effective cooling unit that does its work quickly and efficiently. With its elegant appearance and convenient user-friendliness, the Haier HPC12XCR portable air conditioner is designed to work most efficiently in spaces of up to 450 square feet, producing an average of 12,000 Btu. Having a good idea of the size of the spaces that you wish to keep cool is the best way to ensure that your choice of product will work most efficiently and effectively for your requirements. And in those spaces under 450 square feet, our reviewers have declared the Haier HPC12XCR as difficult to beat.
The Haier HPC12XPR is a small yet effective product. Combining sleek design principles with a small, robust body, this unit is perfect for smaller rooms. With a price tag that won't put a hole in your wallet and elegant design, this unit will sit comfortably in any modern home with its two-tone aesthetic and its relatively powerful cooling capacity. Here is a little more detail, is how the air conditioner fared across our reviews team's criteria of Cooling Performance, Efficiency & Certifications, Convenience, Design, and Customer Support.
Cooling Performance
The Haier HPC12XCR has a cooling capacity of 12,000 BTU, and a cooling area of up to 450 square feet. It does not have the widest range of the AC units we have reviewed, nor has it the most powerful of cooling capacities. However, for a small to medium sized room, the HPC12XCR should be more than sufficient to keep things cool. Knowing to some degree of accuracy the dimensions of the room where you will be implementing your portable AC device is paramount to yielding the most efficient results.
Efficiency and Certifications
As far as certifications are concerned, this unit does come with the UL (Underwriters Laboratories) certification, meaning it has been tested for safety and passed by the authorised experts.
In the realm of efficiency, the Haier HPC12XCR has been assigned an energy efficiency ratio of 9.5. Our team estimates that the running cost for this unit per annum should be under $100. However, be aware that costings are going to vary depending on level of product usage. The unit's 24-hour on-off timer will help the user set up the most efficient cooling schedule.
Convenience
This particular unit weighs almost 56lbs, making it a very light portable AC unit. This is a vital aspect of the HPC12XCR's design if you intend to move your portable AC unit from room to room.
The HPC12XCR also comes with a full function electronic remote control, digital time/temperature display, and three cooling and fan speeds. A dehumidifier setting is also included in the HPC12XCR.
Design
As mentioned earlier in this review, the Haier HPC12XCR weighs in at slightly under 56lbs, enabling anyone to move it around your home with ease.
As far the aesthetics are concerned, our team were fond of the HPC12XCR's sleek finish, and two-tone effect, with white on black and a silver accent. It's an AC unit that is likely to turn the heads of visitors. Even while not in use, this unit will blend in attractively to almost any area of your home.
Another notworthy aspect of the design is the unit's vent hose, which extends up to five feet, allowing the user to move the HPC12XCR away from the window where heat is being exhausted.
Dimensions (Inches)
Height: 27 3/4″
Width: 16 7/8″
Depth: 14 1/4″
Help & Support
The Haier HPC12XCR AC unit comes with a one-year warranty on the appliance, with a five-year warranty on the compressor, the unit's main component.
A satisfactory amount of support is also available online, including a user manual on Haier's website, a FAQs page, and a contacts page, where the consumer can contact Haier via email, phone, or live chat.
Summary
The Haier HPC12XCR is a great all-rounder. Sleek in design, and a decently powerful unit in its own right. While it's imperative for the user to accurately calculate the size of the room or spaces that they wish to keep cool, the Haier HPC12XCR is pretty much the perfect companion for a small to medium-sized room of about 450 square feet. Any larger, and the user will not feel the full effect of the unit. Overall, the Haier HPC12XCR gets our thumbs-up.