LG LP1415GXR Air Conditioner Review
Last Updated: March 31, 2021
Are you looking for a sleek portable air conditioner unit, but are struggling to find one powerful enough to match your requirements? We may have just the unit for you, with the LG LP1415GXR portable air conditioner unit. This immensely powerful portable air conditioner greatly impressed us with its performance, while retaining its high efficiency. […]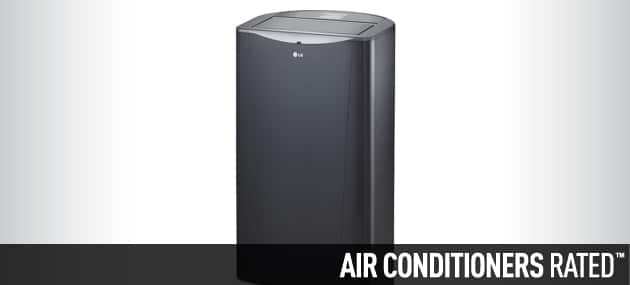 Are you looking for a sleek portable air conditioner unit, but are struggling to find one powerful enough to match your requirements? We may have just the unit for you, with the LG LP1415GXR portable air conditioner unit. This immensely powerful portable air conditioner greatly impressed us with its performance, while retaining its high efficiency. Continue reading our full review below for more details.
LG LP1415GXR Air Conditioner Review 2021
LG has been known manufacturers to many of us for years. Providing the market with high-quality products that are both functional, and stylish. We got our hands on the LG LP1415GXR portable air conditioner unit, and couldn't wait to break down the specifications for our readers.
Cooling Capabilities
With an impressive 14,000 BTUs of cooling power, this unit is capable of effectively cooling spaces up to 700 sq. ft. Producing an airflow of 270 cubic feet per minute, this air conditioning unit is perfect for a medium-large room. Furthermore, this units' three-speed fan allows the customer a greater deal of control over their product.
A dehumidifier mode is also available in the LG LP1415GXR. Capable of removing 3.4 pints of moisture from the air every hour, this is not merely a dehumidifier that was tacked onto the product last second as a novelty. Simply put, this dehumidifier works. This makes the LG LP1415GXR ideal for those living in a hot/humid climate, who wish to combat both heat and excessive humidity.
Efficiency / Certifications
Unfortunately, this unit does not have any of the official certifications that we would look for, or even expect from an Air Conditioning unit, such as UL, AHAM, RoHS.
As far as efficiency is concerned, this unit earned itself an Energy Efficiency Ratio (EER) of 10.1, which is above the industry average.
It must also be mentioned, that due to this device's strength, upkeep will cost more than it would with most portable units. We believe that the cost of keeping this unit operational would tower above one hundred dollars per year.
Convenience
The LG LP1415GXR has several standard features we would expect of a modern day air conditioning unit. These include, a remote control, a timer, automatic restart, a dehumidifier, and a three-speed air fan for maximum comfort.
The remote control greatly enhances ease-of-use, as the user is not forced to move every time they merely want to change a setting. The programmable timer allows the user to input which hours of the day they would prefer their unit to function. The unit will then automatically power-on and off according to the schedule set out by the user.
The automatic restart feature is relatively common in the industry now, This feature allows the unit to turn itself back on after a power-outage. This is especially useful if you're away from home at the time, this prevents you arriving to find your home too hot or too cold.
A a noise level of 55dB, this a surprisingly quiet unit for its power output. As the average human conversation registers at about 60dB.
Unfortunately, this unit is lacking a sleep mode, which is a useful feature of many modern AC units. This usually entails the unit running a reduced capacities, thus using less energy, making less noise, and gradually allowing the room to become warmer throughout the night.
Design
Weighing 71,6lbs, we recommend that the buyer does not attempt to lift or install this device without appropriate aid. As this unit stands upon casters, it is easy-to-roll about the house. A 5ft vent-hose improves upon the overall portability of the product, allowing it to function anywhere within five feet of a window.
A noticeably useful design feature of this unit is its oscillating louvers, which distribute air to all parts of the room automatically. In the case of many portable AC units, the user would be forced to make their way to the unit to physically adjust the louver, however, this is not the case with the LG LP1415GXR.
As far as aesthetics are concerned, this unit is beautifully modern in design. Simplicity at its best, LG have provided us with yet another fantastically designed product. Gentle curves, with a subtle matte finish allow this product to ease back into any environment. The LG LP1415GXR is not only visually pleasing in relation to other portable ACs, it is a well designed product in its own rite, adding style to any living space, instead of taking it away.
Help & Support
This product comes backed by a one-year warranty. We would advise that should any of our readers have any queries, or curiosities relating to warranty policy specifics, that they contact LG directly for more details.
As an LG product, buyers of this unit may avail of LG's user-friendly, refined customer service infrastructure. This includes access to representatives via live chat, phone, or email. Online manuals are available for download online, in the unfortunate case that you lose your physical copy, and a comprehensive FAQs section is accessible via the LG website.
Verdict
While missing some of the features we would like it to have, such as a sleep mode, the LG LP1415GXR is a stunning unit nonetheless. Stylish, and exceptionally powerful for its class, this portable air conditioning unit packs a serious punch. If you are looking for a device that will easily cool large living spaces in your home, while effortlessly sitting into a modern décor, we would recommend this unit for you. However, be advised, if you are simply looking to cool a smaller living space, this unit may be more powerful than necessary, and that doesn't automatically mean better for your home.